Introduction
Today, we will be covering another bitcoin platform – known as Local Bitcoins. And by the end of this review – you will fully understand the premise of their site – as we show you the variety of investing opportunities and advantages that they have to offer you, and necessary information that you must know before you invest with Local Bitcoins.
But before we begin, we would like you to read and agree to the Terms & Conditions of this post before you proceed any further.
Disclaimer: Invest In Wall Street is in no way financially or legally responsible for any investing decisions made by any of our readers and are, in turn, acting on their own free will. The information in this article is purely educational and should not be abused or misconstrued in any way, shape, or form.
These are independent, affiliated, third-party sponsors – as Invest In Wall Street is not accountable for any results that may occur. Feel free to read our affiliate disclosure.
Results may vary. Please invest responsibly.
LocalBitcoins Review
At LocalBitcoins, people from different countries can exchange their local currency to bitcoins. The site allows users to post advertisements where they state exchange rate and payment methods for buying or selling bitcoins. You reply to these advertisements and agree to meet the person to buy bitcoins with cash, or trade directly with online banking. Bitcoins are placed in LocalBitcoins web wallet from where you can pay your bitcoin purchases directly.
Their mission is to connect everybody to Internet economy – as they are constantly expanding and want to ultimately bring the bitcoin exchange and economy to every city in the world.
What makes this platform stand out is that with LocalBitcoins, you are dealing with humans. And unlike centralized, stock-exchange-like, bitcoin trading sites, you make a trade directly with another person.
This makes the process lean and fast, as there is no corporate overhead- and you can get your bitcoins instantly.
Also, LocalBitcoins can support every payment method its user community supports. For every transaction, LocalBitcoins offers escrow or other transaction services to protect the buyer of bitcoins.
The trade process duration from the creation of the user account to having bitcoins in your wallet is only takes a few minutes – making the registration and transaction process easy, quick, and convenient.
Bitcoin Trading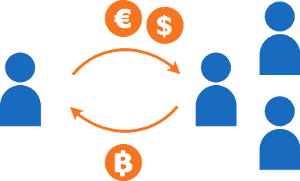 Registering, buying, and selling Bitcoin is completely FREE.
LocalBitcoins users who create advertisements are charged a 1% fee for every completed trade.
Bitcoin Transaction Fees
Transactions to wallets of other LocalBitcoins users are FREE.
Transactions to other Bitcoin wallets are subject to Bitcoin network transaction fee. The current fee is visible on the wallet page under the heading "Bitcoin Network Fees". The size of the fee changes depending on the current usage rate of the Bitcoin blockchain, LocalBitcoins automatically adjusts this fee based on the current network congestion to make sure your transactions are confirmed as quickly as possible. The transaction fee is paid from your LocalBitcoins wallet when you send a transaction.
When sending to LocalBitcoins wallet, a bitcoin network fee is deducted from the deposit. The fee varies on how congested the Bitcoin Network is. If your deposit amount is smaller than the bitcoin deposit fee, the deposit will not be processed. The current sending fee is visible on the wallet page under the heading "Incoming transactions and fees".
When using our merchant invoicing services a fee of 0.5% is deducted from the paid invoice amount of each invoice. Also, the bitcoin network deposit fee is deducted from the invoice amount, if the invoice is paid with an external transaction.
LocalBitcoins Security Borders
LocalBitcoins recognizes the importance of security researchers in helping keep our community safe. LocalBitcoins encourages responsible disclosure of security vulnerabilities via their bug bounty program described on this page.
Responsible Disclosure
Responsible disclosure includes
Providing them a reasonable amount of time to fix the issue before publishing it elsewhere.
Making a good faith effort to not leak or destroy any LocalBitcoins user data.
Not defrauding LocalBitcoins users or LocalBitcoins itself in the process of discovery.
In order to encourage responsible disclosure, LocalBitcoins promises to not bring legal action against researchers who point out a problem provided they do their best to follow the above guidelines.
Final Verdict
LocalBitcoins is a person-to-person bitcoin trading site that embraces the nature of bitcoin.
Almost all countries are free to access its platform – and growing; and allows you to trade with ACTUAL people, making the simple transaction process efficient and swift.
There are no transaction fees to register for a new account – and most importantly, to buy and sell bitcoins.
Overall, it is a relatively good platform for those who are looking to trade or mine bitcoins for all users internationally.
If you are interested and would like to learn more about this platform, click here to sign up
Want to buy some bitcoins from LocalBitcoins? Click here to buy your very first bitcoin