Introduction
Today, we will be covering another trading platform – known as Plus 500. And by the end of this review – you will fully understand the premise of their site – as we show you the variety of investing opportunities and advantages that they have to offer you, and necessary information that you must know before you invest with Plus 500.
But before we begin, we would like you to read and agree to the Terms & Conditions of this post before you proceed any further.
Disclaimer: Invest In Wall Street is in no way financially or legally responsible for any investing decisions made by any of our readers and are, in turn, acting on their own free will. The information in this article is purely educational and should not be abused or misconstrued in any way, shape, or form.
These are independent, affiliated, third-party sponsors – as Invest In Wall Street is not accountable for any results that may occur. Feel free to read our affiliate disclosure.
Results may vary. Please invest responsibly.
Plus 500 Review
Plus500 is a leading provider of Contracts for Difference (CFDs), delivering trading facilities on shares, forex, commodities, ETFs, options and indices, alongside innovative trading technology.
The Plus500 trading platform is offered by Plus500UK Ltd, a UK based company with its main offices located in the city of London. The company is authorized and regulated by the Financial Conduct Authority (FCA) to offer Contracts For Difference (CFD). The company is a rapidly growing CFD provider in Europe and Asia and currently offers its portfolio of over 1000 instruments to over a million clients.
Plus500 strives to give every client the ability to efficiently trade any financial product around the globe including: Shares, ETFs, Indices, Commodities and Currencies.
Plus500 is a multi-asset trading platform. Our wide coverage includes UK, US, European and Asian exchanges.
To provide their clients with the optimum trading platform, Plus 500 has built strong execution relationships with many of the world's largest international banks. These relationships offer the benefits of increased size of deals, better prices and superior execution which, in turn, they pass onto their clients. Clients can also connect to our trading platform on multiple devices, from PCs to Macs to iPhone and Android smartphones and tablets.
Plus500 believes in:
Transparency – They make it clear to their clients exactly what they get and what they pay for. They pay no commission to their providers therefore our clients don't pay any commissions.
Professionalism – Their product is designed with enhanced security ensuring safe and seamless trading.
The Human Side – With over a million sign ups, Plus500 is operated by a dynamic group of programmers. They have our ups and downs and successes and failures, just like you. Keep faith in yourself, don't change your behavior and continue going forward.
The Advantages Of Plus 500
There is no greater satisfaction than having the privilege to work with a team of experts that understands your needs – and Plus 500 does just that.
Here are some of the other benefits that Plus 500 has to offer:
1. Plus 500 offers the complete package after you sign up for membership – which is FREE by the way
Leverage of up to 1:300
Tight spreads
No commissions
Fast and reliable order execution
2. Absolute Control – Use our advanced tools and features to gain control on your account
Stop Limit / Stop Loss / Trailing Stop
Guaranteed Stop
FREE notifications
Negative balance protection
3. Feel free to explore and discover
Trade the world's most popular markets and explore endless trading options. Plus 500 offers thousands of financial instruments, FREE real time quotes and online support
Other benefits that are offered exclusively by Plus 500 includes:
In most jurisdictions that we offer our services we provide Chat and Email Support around the clock (24/7).
Customers cannot lose more funds than they have available in their account.
All trading instruments are leveraged.
They offer a free and unlimited demo account.
Plus500's subsidiaries are fully authorized and regulated in the jurisdictions in which they operate.
Spread Only: the cost of trading is built into the spread.
Plus500 is available in more than 50 countries and in more than 30 languages.
Deposits & Withdrawals
All client funds are held in segregated client bank accounts, to ensure maximum protection of the funds.
Plus500's policy is neither to charge customers for deposits nor to pass on any such charges levied on them. If you have made a deposit in a different currency to that which your account is denominated in, they may pass on to you all commissions or other charges which they incur in any currency conversion. You shall be liable for any and all taxes and fees with respect to any transaction.
In order to make a deposit and begin trading with Plus500 all you have to do is:
Click on "Funds Management" > Deposit > Select you preferred deposit method from the available options > Fill in the fields on click the "Submit" button (on mobile devices, you can access the "Funds Management" screen from the menu button)
Each deposit method has its own minimum deposit level, and further information may be found in the Deposit screen on the trading platform. You can deposit using one of the following methods (note that some of the methods may not be available in your region):
Debit/Credit cards – only Visa or MasterCard debit/credit cards are acceptable (there may be further limitations depending on your region).
Electronic wallets (PayPal or Skrill).
Bank transfer (direct bank to bank funds transfer)
In order to make a withdrawal all you have to do is:
Click on "Funds Management" > Withdrawal > Select you preferred deposit method from the available options > Fill in the fields on click the "Submit" button (on mobile devices, you can access the "Funds Management" screen from the menu button)
The time frame for processing a withdrawal request is normally 1-3 business days, in order to allow us to complete various security checks before initiating payment. The time frame for receipt of the payment, is dependent upon the payment method and processing time of the third party remitter.
All withdrawal methods have minimum amount thresholds, which can be found on the withdrawal screen on the trading platform.
The Plus 500 Trading Platform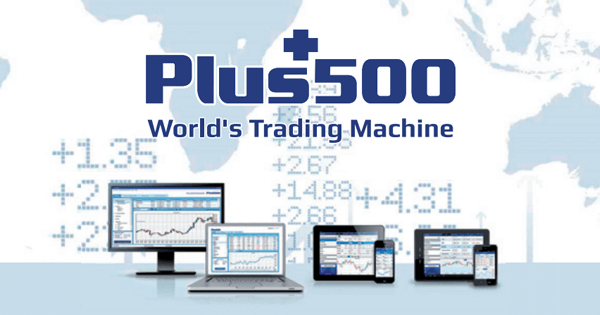 The Plus500 trading platform is a simple and intuitive platform, which allows customers to trade on a large variety of instruments*. Plus500 is a leading provider of Contracts for Difference (CFDs), delivering trading facilities on Shares, Forex, Commodities, ETFs, Options and Indices, alongside innovative trading technology.
Market hours are the time frame in which a trading instrument is available for trading, i.e. it is possible to open or close a trade. You can view this information for each instrument individually by clicking on the "Details" link in the main screen of the trading platform. Market hours are displayed in your local time.
Trading at Plus500 is conducted by opening positions on financial instruments. Each instrument has a defined "Unit Amount", which is the minimum size of trade or number of contracts/shares etc. to open a position. This information is located in the Details link for each instrument, along with other features, such as margin requirements, leverage, trading hours, etc.
Plus 500 also offers their members the opportunity to open a demo account filled with paper money as a way to practice your trading skills and back test your own strategies.
You can choose your preferred account mode from the login screen or switch between the two accounts by clicking on the "switch to demo mode" or "switch to real money" in the main platform screen or from the app's menu
The Plus 500 Gold Account
As a result of system enhancements, all Plus500 trading accounts are gradually being upgraded to "Gold accounts", which have different units of trade size and a 5% discount on all overnight funding charges.
Each instrument has a different unit of trade size, and therefore you are advised to use the ones that best suit your trading needs.
If you wish to change your account status back to "Standard", please contact Plus 500 with your request and your account settings will be adjusted accordingly.
Final Verdict
Overall, Plus 500 is a great platform for those who want to be able to trade various equities and derivatives for extremely low commissions.
However, I must say that Plus 500 services are currently not available to US residents. If you would like to find out if the country that you live in qualifies for this trading exchange, feel free to visit their website here.
They have low spreads and fees, excellent trading resources, a sleek interface that is easy to use, a free demo account to test your skills, risk management techniques at your disposal, available 24/7 365 days per year, and guaranteed protection of funds and trades in your account.
Plus 500 is definitely worth checking into if you want to give their service a try.
If you are interested and would like to learn more about this platform, click here to sign up.