Introduction
Today, we will be covering another trading platform – known as SimpleFX. And by the end of this review – you will fully understand the premise of their site – as we show you the variety of investing opportunities and advantages that they have to offer you, and necessary information that you must know before you invest with Simple FX.
But before we begin, we would like you to read and agree to the Terms & Conditions of this post before you proceed any further.
Disclaimer: Invest In Wall Street is in no way financially or legally responsible for any investing decisions made by any of our readers and are, in turn, acting on their own free will. The information in this article is purely educational and should not be abused or misconstrued in any way, shape, or form.
These are independent, affiliated, third-party sponsors – as Invest In Wall Street is not accountable for any results that may occur. Feel free to read our affiliate disclosure.
Results may vary. Please invest responsibly.
SimpleFX Review
SimpleFX is a robust online trading provider, offering trading with Forex CFDs on Bitcoins, Litecoins, indices, precious metals and energy.
Their mission is to keep our offer and trading conditions simple and transparent.
This platform is internationally recognized by professional traders everywhere, available in more than 160 countries and 140,000+ users – and growing!
This brokerage was built by traders – for traders, making them more understanding of the needs and of their clientele.
SimpleFX trading platform offers customers a simple solution with:
The best pricing, execution and liquidity
Innovative trading technology
A variety of trading instruments
All-year-round trading 24/7/365
Guaranteed Deposit Protection Funds
Using SimpleFX
Registering a new account with the SimpleFX brokerage is quite simple and only takes a few minutes to complete.
Once you have created a new account, you will have full access to all the features that SimpleFX has to offer.
All SimpleFX accounts gives you the following privileges:
15 base account currencies
Up to 1:500 leverage
Cryptocurrency Account
No minimum deposits
There are a total of 60 currencies that can be traded in addition to indices, commodities, and precious metals – just to name a few.
Best of all, they have extremely low spreads – starting as low as 0.1 pips – as these assets can also be traded 24 hours a day, 7 days a week and 365 days a year – anywhere and anytime across all platforms (desktop, tablet, or mobile phone).
Deposits and Withdrawals
SimpleFX offers 12 fast and easy ways to make a deposit into your trading accounts
Accounts can be funded in a matter of minutes in the following ways:
Bitcoin
Dash
Ethereum
Litecoin
Bitcoin Cash
Credit Card
Skrill
Neteller
Local Payments
Bank Transfers
FasaPay
MegaTransfer
SimpleFX Deposits & Accepted Funding Types
SimpleFX Withdrawals & Accepted Funding Types
SimpleFX Trading Platform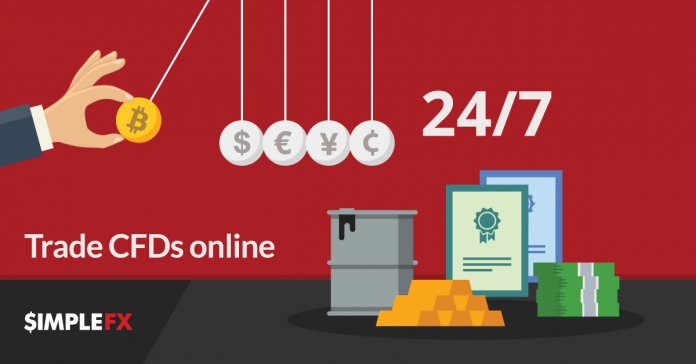 Not sure when to buy and when to sell?
SimpleFX offers features which can help make a trading decision: market news, market sentiment data, a variety of tools for technical analysis, and public chat rooms where you can run your idea by other fellow live traders.
When trading with SimpleFX, there is no dealing desk, no trade commissions, and fast executions – making your orders be filled effectively and in a timely manner.
If you'd like to stay anonymous, open a bitcoin account that guarantees it.
SimpleFX Bitcoin Trading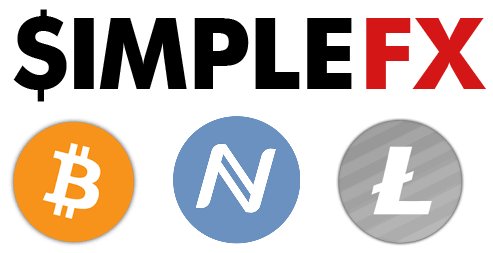 All bitcoin deposits and withdraws are completely FREE OF CHARGE.
With SimpleFX, you are able to trade with Bitcoins. You do not need any kind of hard currency. Just deposit your Bitcoins and start trading! Everything you need to do is to spare a minute to create an account and deposit your Bitcoins. Shortly after that, you are free to trade, simple as that!
Final Verdict
Overall, SimpleFX is a great platform for those who want to be able to trade various equities and derivatives for extremely low commissions.
It is virtually available almost everywhere, have low spreads and fees, excellent trading resources, a sleek interface that is easy to use, a free demo account to test your skills, risk management techniques at your disposal, available 24/7 365 days per year, and guaranteed protection of funds and trades in your account.
SimpleFX is definitely worth checking into if you want to give their service a try.
If you are interested and would like to learn more about this platform, click here to sign up.